Gnarled Tree Trunks and Handmade Ukuleles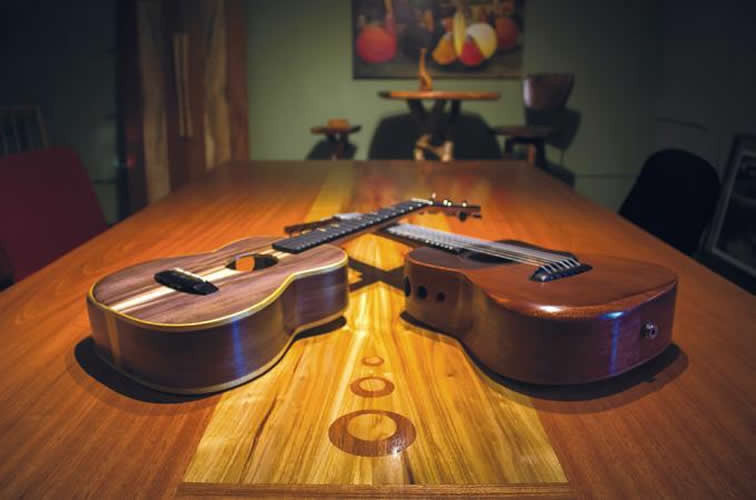 Outside Coffeebar in Truckee sits a large community table with succulents growing in the middle and box-like chairs around it. Named #livinglounge and made from repurposed wood from a boathouse on the West Shore, this table was designed and crafted by THREEdot Studios, a five-month-old artisan collaboration between Roundwood Furniture's Andy Cline and TyDe Music's Tyler Joersz and Devin Price.
Sharing two common traits, dream and drive, these three woodworking artists see THREEdot Studios as embodying their ultimate vision: a collection of artists working under one studio. Using ethically grown and harvested wood, as well as locally salvaged pieces, THREEdot Studios produces gorgeous and functional art, with Roundwood focused on furniture and TyDe on ukuleles. After moving into a new studio space on Speckled Avenue in Kings Beach last November, the artists are already receiving confirmation that they are doing something right. The conference room in their new studio currently has a temporary meeting table because a client bought their original conference table right out from under them.
The Raw Elements
Self-taught in the art of fine woodworking, Cline founded Roundwood Furniture in 2000, striving to craft pieces that are "simple, clean, harmonious versions [of things], using wood as your voice," he said. Realizing that his choice materials like large trees and repurposed planks were difficult to work with alone, Cline commissioned apprentices Joersz and Price in 2007 and 2008, respectively. They began working together to produce studio furniture, or art furniture, and Cline says his favorite projects are those on which they all collaborate.
"We sit down together and say, "What's the vision here?" We want to embrace new design, that's where the best work comes from," Cline said. "Tahoe treasures its organic nature; it's immersed in nature."
Over the years, the woodworkers have played with designs like gnarled tree trunks as the root of a table paired with a beautifully exotic wood top. They're also responsible for many local fixtures, like the trees above the bars at all three Uncorked locations, and the Beatblossom drum set that lived outside Coffeebar last fall, and another set behind Jason's in Kings Beach. Featuring six drums, the organic musical sculpture stands six feet tall with each drum stemming from a central structure of tree roots grafted together.
"Once you know the rules, you can break the rules," Cline said. "That's where ingenuity comes from."
By using reclaimed wood, THREEdot stays sustainable while using its pieces to tell a story, as the nuances of salvaged wood often hold stories of its past lives. The artists constructed a tabletop out of wood they fondly call "Tahoe Gatorwood," which is reclaimed wood from a Lake Tahoe boathouse with a grain that resembles alligator skin and grooves, bumps, and discoloration from years of water and wind lashing at it.
"The earth provides, you just need a call to action," Cline said. "We never use pigment or stains on the wood. There is yellow wood for yellow, blue wood for blue, dark wood is dark wood."
Cue the Music
As the group worked together over the years, they not only made a name for Roundwood Furniture, but they began moving toward a new sphere of woodworking: music-related products. Price and Joersz began experimenting with making smaller pieces like iPhone speakers made from wooden blocks that use simple acoustics to amplify the sound while holding the phone up. They also tried their hands at lutherie.
"I thought a musical instrument could be an excellent application of functional art," Price said. "I decided I would use some scraps from furniture production and attempt to build my first one."
With access to fine wood and the skilled brains and hands of Cline and Joersz, Price fashioned his first ukulele and brought it to the Reno Ukulele Festival, where he discovered that the ukulele crowd was hungry for more of his instruments. Since then, TyDe music has also started constructing Cajon drums. All TyDe instruments can be found in specialty music shops and are available for custom orders.
The Next Chapter
One of the company's latest projects is a collaboration with the blacksmiths of Stryker Forge in Kings Beach. THREEdot Studios and Stryker Forge are working together for a client to design the Meteor Katalox, an $11,000 dollar ultra-modern furniture sculpture built from the South American Katalox wood and solid, half-inch thick plate steel.
Organic elements will continue to thread through all of THREEdot Studios' furniture and instruments as the collective grows and evolves. The studio's logo resembles an ellipsis to imply that each piece of art created is one part of a greater picture, and will inspire future designs.
"It is really a never-ending task of creating new modifications to make things work better, and it is really nice to have three brains instead of one to help everyone evolve," said Price. "The flow of artistic ideas is never-ending and lends to a perfect relationship for creation."